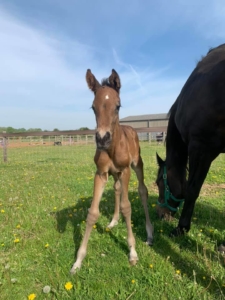 Well it's been a very strange time these past couple of months with the World being in lock down during the Covid-19 pandemic. Despite not being able to go out and compete we have still been busy at both yards with bringing on the young horses and foaling. It has been a time to reflect and appreciate just how lucky we are to live in such wonderful surroundings, a time to slow down and enjoy the little things that too often pass us by when we are rushing around.
Normally I would post photos of the horses out competing or training, but instead below are some pictures of the horses just being horses, taking it easy and enjoying life.
Like this gorgeous colt foal, BamBam, out in the paddock for the first time with his Mummy, Skye. He is bred to event by Nicola and Jaz Holmes and already has such a confident outlook on life he is bound to be a superstar.
Following with the same relaxed theme, here are four of the youngsters over at the Dunchurch yard making the most of a quieter life at the moment…
….Even the dogs and cat have been making the most of this quiet time!
To finish here are some lovely photo's of the farm that we have taken the time to appreciate.